I purchased this in 1981, used. A previous owner painted it orange and bored out the mufflers on it. I believe I paid something like $400 for it. I probably rode it 3,000 or so miles or so. I swore I'd never, ever buy a used motorcycle again. I do admit it was a good learning experience: 1) I learned how to ride a motorcycle. And 2) to never buy a used motorcycle. I fell down twice on it.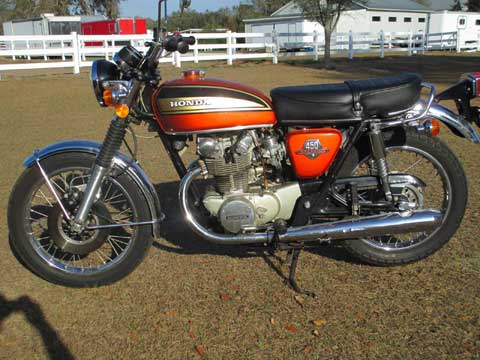 This is a picture of a 1873 Honda 450, but it is not a photo of my motorcycle. The motocycle I bought was only in "fair" condition.
---
Motorcycle #2
1983 Honda Hawk (CB400T)
I bought this one new in 1984, for around $1700, from Wagner's Motorcycles in Michigan City (located at the corner of Michigan Boulevard and Esther Street [it is now a Laundromat]). . It was black, and it was of the "sport bike" genre. 400cc, with five speed transmission. It was adequate, although the skinny tires on it made it unsafe, in my opinion. I fell down a few times on it (on sand in the street and wet autumn leaves). I kept it until 1987, and rode it around 15,000 miles total. Putting an aftermarket fairing from J.C. Whitney and luggage rack wasn't a good idea (I swore I'd never do that again: parked outside, the fairing acted as a sail; a good wind, and the motorcycle would be laying on its side).
This is a picture of a 1983 Honda Hawk, but it is not a photo of my motorcycle. I didn't have this time of fairing.
---
Motorcycle #3
1987 Honda Rebel 450 (CMX450C)
I bought this brand new in 1987 (and traded in my Honda Hawk for it). It was black, of the "cruiser bike" genre. 450cc, with a six speed transmission (the top gear was an overdrive). I acquired a genuine Honda luggage rack for it. A wonderful, wonderful motorcycle. I bought it in 1987 for $2,000, kept it for four years (until July 1991), sold it for $1,000 cash from some guy who ships these motorcycles to the Netherlands... apparently they're quite popular over there. I rode it for 15,000 miles.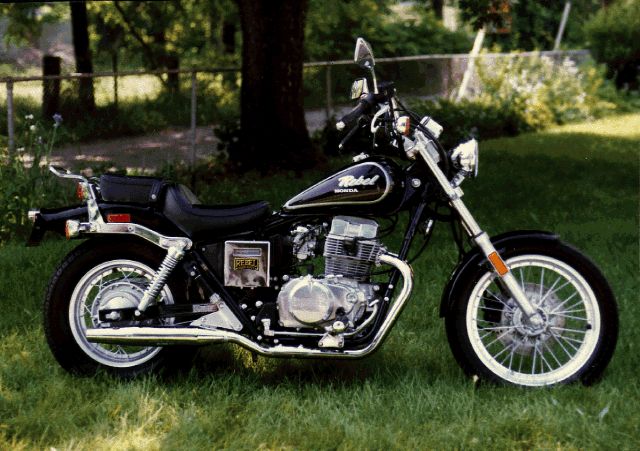 This is my bike, right before I sold it (4 years old, 15,000 miles on it). As you can see, I kept it in excellent condition.
---
Motorcycle #4
2000 Honda Rebel 250 (CMX250C)
After being without a motorcycle for nine years, I finally bought a new one. I would have loved to have gotten another Rebel 450, but only a Rebel 250 is being made. So I bought one, brand new, in March of 2000, for $3,000. Being only a 250cc motorcycle, I had misgivings about its lack of power. But I was pleasantly surprised at its power. And the muffler sound is deep, sounding just like a 450. At 55mph, the engine is working hard, so it wouldn't last long if I took it on a lot of long distance trips. Also, being a short motorcycle, I developed cramps in my legs. I sold this, in July 2000, at 1,486 miles, to my wife, Rita.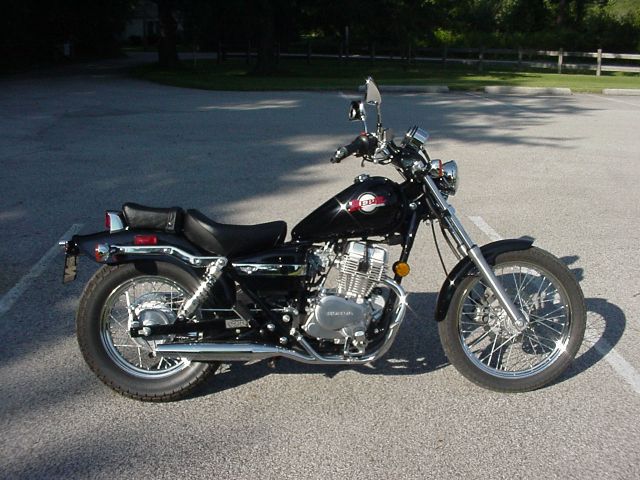 Taken at the Ly-Co-Ki-We Parking Lot at Furnessville, Indiana, Summer of 2000.
---
Motorcycle #5
2001 Honda Shadow VLX Deluxe 600
At long last, my dream bike! Words cannot express the joy of riding this wonderful motorcycle. And I heard positive comments from onlookers often. I bought this new on July 3, 2000, for $5,500.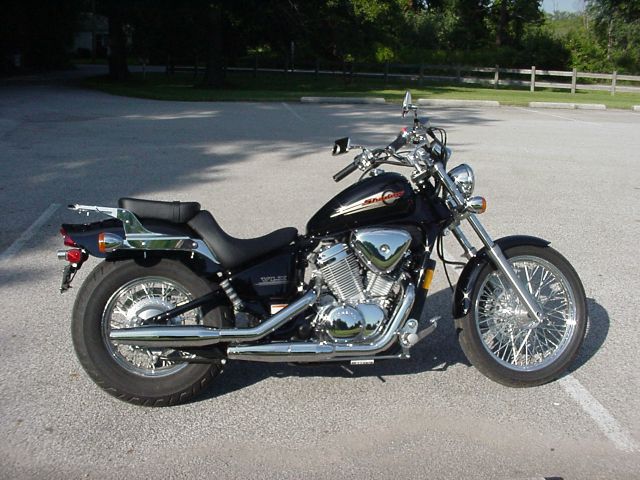 Taken at the Ly-Co-Ki-We Parking Lot at Furnessville, Indiana, Summer of 2000.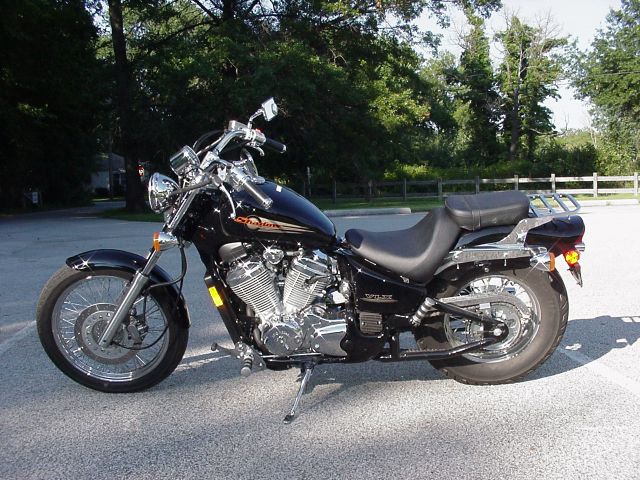 Taken at the Ly-Co-Ki-We Parking Lot at Furnessville, Indiana, Summer of 2000.

In 2001 I replaced its original tires with Michelin Commander tires. In March 2018, with 56,000 miles on it, it broke down. An exhaust valve broke. I got the valve fixed, but the motorcycle is still sitting in my garage, waiting to be fixed. I don't have the enthusiasm to fix it (because of what happened on my last motorcycle).
---
Motorcycle #6
2016 Honda Shadow Aero 750
I bought this, brand new, on May 1, 2018. On June 1, 2018, I was sitting at a stop sign, waiting for traffic to clear so that I could enter the highway. A Dodge Ram 3500 turned off of the highway, took the corner short, and ran into my motorcycle, totalling it. This is my last motorcycle. I am now finished with motorcycle riding. Too many idiots in cars and trucks staring at their stupid "smart" phones instead of driving. I always considered myself a good defensive driver, but if you're sitting at a stop sign, defensive driving is useless.

I didn't get horribly injured. No broken bones, not even a cut (except where my left thigh swelled up so big that the skin split open. Ouch!). I also injured a hip tendon. It could have been much worse.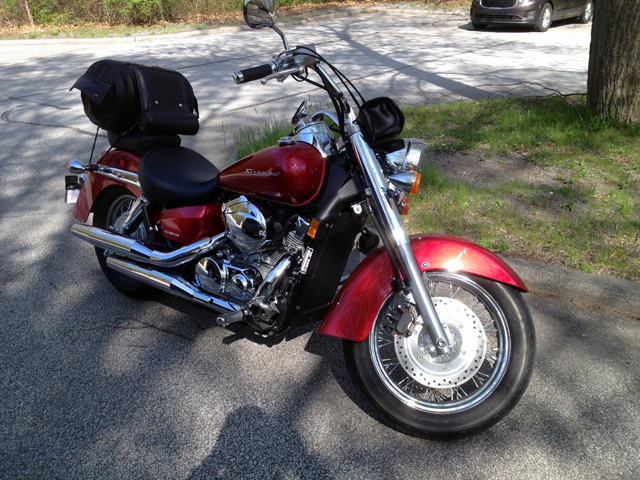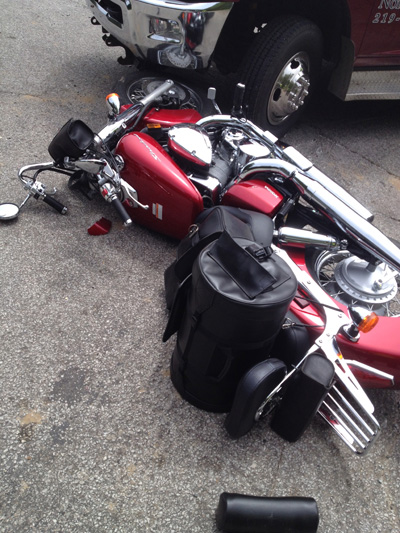 I've read that red is the safest motorcycle color to have. Except for my first motorcycle, which was orange, all of my other motorcycles were black... no accidents, until I buy a red motorcycle, which lasted one month.

So, after 37 years and 100,000+ miles, my motorcycling adventures comes to a crashing end.