Purchase Lotto Sorcerer's Apprentice for Mac OS X/macOS: US$24.99 US$17.49
This is the web page for purchasing (registering) Lotto Sorcerer's Apprentice for Mac OS X/macOS. Lotto Sorcerer's Apprentice is released as "trialware", which means that you get to download and try out the software before you buy it, so there are no disappointments. If you have not yet downloaded and tried this program, it is important that you should visit our download page and download the program and try it before purchasing.
Also, note that we do not ship out this product on a disk. We only send out the registration code, which, when entered into the appropriate place in the program, transforms the program from the limited evaluation version into the full, registered version. This method of fulfillment is common in the shareware industry, and keeps our costs, and your prices, down.
Purchasing (registering) your copy of Lotto Sorcerer's Apprentice is easy.
There are three steps:

1) You pay us for the program by clicking on the appropriate link on the following page.

You can purchase by credit card, PayPal, check, money order, Western Union, MoneyGram or even cash (70 worldwide currencies!).

You can purchase online (on a secure server), fax or mail.


2) We will email you your registration code. 99%+ of orders from PayPal get processed within 20 minutes after receipt of payment, 365 days a year.

If you do not provide an email address, we will mail you the codes.

3) You enter your name and registration code into the Enter Registration Code window in Lotto Sorcerer's Apprentice (using Lotto Sorcerer's Apprentice's menu item "File > Registration > Enter Registration Code"):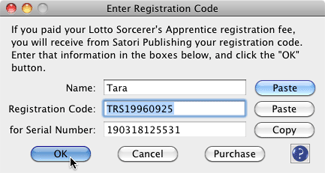 Click the "OK" button, and your evaluation copy is instantly transformed into the full registered version!
Ready to Order?
*required